SENATE
LINDA MENARD

26th-27th Legislature (2009 -2012)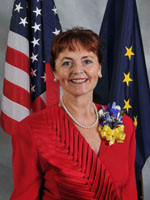 Senator Linda Menard

District: G
Party: Republican

:

PLACE OF BIRTH:
Cheboygan, Michigan
NAME OF SPOUSE:
Dr. Curtis Menard (deceased)
CHILDREN:
Robert, Curtis (deceased), Steven, & Dr. Dirk Menard, Dr. McKenzy (Menard) Boyd
OCCUPATION:
Legislator
LENGTH OF RESIDENCY IN ALASKA:
43 years
ALASKAN COMMUNITIES LIVED IN:
Anchorage 1968-71 Wasilla 1971-present
EDUCATION:
L'Anse High School 1962, University of Alaska 1975 BA Elementary Education, major-psychology, minor-music.
POLITICAL AND GOVERNMENT POSITIONS:
Mat-Su Borough School Board 1996-07, (President and Vice President of the board); Governor's State Arts Council; Citizens' Advisory Commission on Federal Areas (CACFA); Knik Arm Board and Toll Authority (KABATA); Joint Legislative Taskforce on Higher Education and Career Readiness; Joint Legislative Taskforce on Higher Education Scholarship Funding.
BUSINESS & PROFESSIONAL POSITIONS:
All I Saw Cookware (formally Wasilla Design Center): Founder/owner; Palmer & Wasilla Dental Centers, CFO-30+ years
SERVICE ORGANIZATION(S) MEMBERSHIP:
Wasilla Chamber of Commerce: Founder and Vice-Chair; Charter Member Mat-Su Convention and Visitors Bureau; Salvation Army: President and 20 year Advisory Board Member; American Cancer Society: President; Wasilla High School and Middle School PTO: Founder; Mat-Su Mental Health Foundation: Member of the Board; Valley Hospital Association; Mat-Su School Foundation: Founder and Chair 2003-08; Mat-Su Health Foundation: First Chair, Interim Executive Director; Mat-Su Regional Medical Center Board of Directors
SPECIAL INTERESTS:
Piano; Wasilla Community Band: Founder/Drum Majorette; Wasilla & Palmer Bridge Club: Founder; Competitive Scrabble; Three-time marathon runner
OTHER:
Henry Toll Fellow 2010; 1994 First Lady's Volunteer Award; Wasilla Chamber of Commerce Citizen of the Year, 1999; Champion for Children, 2007; Outstanding School Board Member by the Mat-Su principals.
Legislative Service:
Prime Sponsorship
| Bill | Short Title | Prime Sponsor(s) | | Current Status | Status Date |
| --- | --- | --- | --- | --- | --- |
| SB 2 | LICENSE PLATES: NATIONAL RIFLE ASSN. | SENATORS MENARD, HUGGINS | | (S) FIN | 03/07/2011 |
| SB 3 | FUNDING FOR SCHOOL MEALS | SENATORS WIELECHOWSKI, ELLIS, DAVIS, EGAN, FRENCH, KOOKESH, MCGUIRE, MENARD, PASKVAN, THOMAS | | (H) FIN | 03/07/2011 |
| SB 4 | ALASKA VOLUNTEER APPRECIATION DAY | SENATOR MENARD | | (S) STA | 01/19/2011 |
| SB 31 | COUNTING OF WRITE-IN VOTES | SENATORS THOMAS, FRENCH, MENARD, WIELECHOWSKI | | CHAPTER 10 SLA 11 | 05/17/2011 |
| SB 34 | SMALL BUSINESS REVOLVING FUND | SENATORS WIELECHOWSKI, ELLIS, PASKVAN, MCGUIRE, MENARD, THOMAS | | (S) FIN | 02/09/2011 |
| SB 57 | MUNICIPAL PROPERTY TAX EXEMPTIONS | SENATOR MENARD | | (S) CRA | 01/21/2011 |
| SB 79 | APPROP.: KNIK ARM CROSSING FUND | SENATOR MENARD | | (S) FIN | 02/16/2011 |
| SB 80 | KNIK ARM BRIDGE AND TOLL AUTHORITY | SENATOR MENARD | | (S) FIN | 02/16/2011 |
| SB 159 | SUSITNA STATE FOREST/TONGASS FOREST | SENATOR MENARD | | (H) RES | 04/12/2012 |
| SB 190 | BIG GAME COMMERCIAL SERVICES BOARD | SENATOR MENARD | | (S) JUD | 03/02/2012 |
| SJR 1 | CONST. AM: LIMIT TERMS OF LEGISLATORS | SENATOR MENARD | | (S) CRA | 01/19/2011 |
Cosponsored Bills
| Bill | Short Title | Prime Sponsor(s) | | Current Status | Status Date |
| --- | --- | --- | --- | --- | --- |
| HB 9 | IN-STATE GASLINE DEVELOPMENT CORP | REPRESENTATIVE CHENAULT | | (S) CRA | 03/28/2012 |
| HB 16 | EXTEND SENIOR BENEFITS/INCOME ALLOWANCES | REPRESENTATIVE HAWKER | | CHAPTER 6 SLA 11 | 05/02/2011 |
| HB 28 | OCC. LICENSES: TEMPORARY/FEES/PAWNBROKERS | REPRESENTATIVES THOMAS, HERRON, FEIGE | | CHAPTER 25 SLA 11 | 06/27/2011 |
| HB 60 | GEODUCK AQUATIC FARMING/SEED TRANSFER | REPRESENTATIVE SEATON | | CHAPTER 56 SLA 12 | 06/06/2012 |
| HB 65 | SENIOR CITIZEN HOUSING DEV. FUND GRANTS | REPRESENTATIVES EDGMON, HERRON, FOSTER, JOULE | | CHAPTER 8 SLA 12 | 04/24/2012 |
| HB 78 | MEDICAL PROVIDER INCENTIVES/LOAN REPAYM'T | REPRESENTATIVE HERRON | | CHAPTER 25 SLA 12 | 05/22/2012 |
| HB 80 | SELF DEFENSE | REPRESENTATIVES NEUMAN, FEIGE, LYNN, COSTELLO | | (S) FIN | 03/23/2012 |
| HB 98 | HANDLING OF STATE FLAG | REPRESENTATIVE JOHNSON | | CHAPTER 5 SLA 11 | 04/28/2011 |
| HB 129 | DECEASED VETERAN DEATH CERTIFICATE | REPRESENTATIVE GRUENBERG | | CHAPTER 69 SLA 12 | 06/18/2012 |
| HB 131 | COMMUNITY & PUB.TRANSPORTATION ADV. BOARD | REPRESENTATIVE MUNOZ | | CHAPTER 36 SLA 12 | 05/24/2012 |
| HB 180 | VETERAN DESIGNATION ON DRIVER'S LICENSE | REPRESENTATIVE SADDLER | | (S) FIN | 04/06/2012 |
| HB 190 | PFD ALLOWABLE ABSENCE | REPRESENTATIVE FEIGE | | (S) SUP CAL 4/15 | 04/15/2012 |
| HB 196 | BULK FUEL LOANS/POWER PROJECT FUND | REPRESENTATIVE EDGMON | | CHAPTER 46 SLA 12 | 05/28/2012 |
| HB 213 | NAMING MARK HUFFORD TRAIL | REPRESENTATIVE FAIRCLOUGH | | CHAPTER 30 SLA 11 | 07/25/2011 |
| HB 224 | SALES OF NICOTINE PRODUCTS TO MINOR | REPRESENTATIVE SEATON | | CHAPTER 43 SLA 12 | 05/24/2012 |
| HB 229 | BIG GAME COMMERCIAL SERVICES BOARD | REPRESENTATIVE FEIGE | | CHAPTER 73 SLA 12 | 07/02/2012 |
| HB 234 | PICKETING AND PROTESTS AT FUNERALS | REPRESENTATIVE THOMAS | | (S) RLS | 04/13/2012 |
| HB 247 | ALASKA NATIONAL GUARD DAY | REPRESENTATIVES LYNN, THOMPSON, SADDLER | | CHAPTER 10 SLA 12 | 04/30/2012 |
| HB 250 | RENEWABLE ENERGY GRANT FUND | REPRESENTATIVES THOMAS, P.WILSON, MILLETT | | CHAPTER 12 SLA 12 | 05/02/2012 |
| HB 264 | MUNI PROPERTY TAX DEFERRAL: SUBDIVISIONS | REPRESENTATIVE MUNOZ | | WITHDRAWN BY SPONSR | 04/15/2012 |
| HB 281 | WELCOME HOME VIETNAM VETERANS DAY | REPRESENTATIVE THOMAS | | (S) RLS | 04/12/2012 |
| HB 282 | MILITARY TRAINING CREDIT/TEMP. LICENSE | REPRESENTATIVE THOMAS | | (S) SUP CAL 4/15 | 04/15/2012 |
| HB 289 | LIQ. NAT. GAS STORAGE: TAX CREDIT/LEASE | REPRESENTATIVE THOMPSON | | (S) FIN | 04/04/2012 |
| HB 290 | ESTABLISH ENDOW ALASKA GRANT PROGRAM | REPRESENTATIVE AUSTERMAN | | (S) FIN | 04/10/2012 |
| HB 298 | EXEMPTIONS FROM MINING TAX | REPRESENTATIVE SEATON | | CHAPTER 28 SLA 12 | 05/22/2012 |
| HB 301 | BOATING REGULATION: SUNSET/ENFORCEMENT | REPRESENTATIVE AUSTERMAN | | CHAPTER 31 SLA 12 | 05/22/2012 |
| HB 310 | STATE IMMUNIZATION PROGRAM | REPRESENTATIVE HERRON | | CHAPTER 24 SLA 12 | 05/22/2012 |
| HB 316 | MILITARY FACILITY ZONES | REPRESENTATIVE THOMPSON | | CHAPTER 20 SLA 12 | 05/16/2012 |
| HB 333 | CAMPAIGN CONTRIBUTIONS/POET ACCTS | REPRESENTATIVE HAWKER | | CHAPTER 44 SLA 12 | 05/24/2012 |
| HB 345 | WAIVE CDL SKILL TEST FOR CERTAIN VETERANS | REPRESENTATIVE SADDLER | | (S) SUP CAL 4/15 | 04/15/2012 |
| HCR 3 | SENIOR CITIZEN PROTECTIONS | REPRESENTATIVE MUNOZ | | LEGIS RESOLVE 14 | 07/19/2011 |
| HCR 5 | VITAMIN D SUPPLEMENTS | REPRESENTATIVE SEATON | | LEGIS RESOLVE 16 | 07/19/2011 |
| HCR 6 | SEXUAL ASSAULT AWARENESS MONTH | REPRESENTATIVE COSTELLO | | LEGIS RESOLVE 7 | 07/19/2011 |
| HCR 7 | DECORATION OF HONOR | REPRESENTATIVE SADDLER | | LEGIS RESOLVE 22 | 07/19/2011 |
| HCR 8 | TSA SCREENING PROCEDURES | REPRESENTATIVE TUCK | | LEGIS RESOLVE 4 | 07/19/2011 |
| HCR 24 | STATE FOOD RESOURCE DEVELOPMENT GROUP | REPRESENTATIVE STOLTZE | | (S) SUP CAL 4/15 | 04/15/2012 |
| HCR 25 | WILDLIFE & SPORT FISH RESTORATION PROGRAM | REPRESENTATIVE NEUMAN | | (S) RLS | 04/06/2012 |
| HJR 9 | ENDORSING ANWR LEASING | REPRESENTATIVE PRUITT | | LEGIS RESOLVE 25 | 07/19/2011 |
| HJR 11 | OPPOSING ANWR WILDERNESS DESIGNATION | REPRESENTATIVE MILLETT | | LEGIS RESOLVE 5 | 07/19/2011 |
| HJR 13 | HONORING RONALD REAGAN | REPRESENTATIVE STOLTZE | | LEGIS RESOLVE 1 | 07/19/2011 |
| HJR 15 | SUPPORT ARCTIC CAUCUS | REPRESENTATIVE HERRON | | LEGIS RESOLVE 10 | 07/19/2011 |
| HJR 21 | OPPOSING FEDERAL WILD LAND DESIGNATION | REPRESENTATIVE FEIGE | | (S) RES | 04/04/2011 |
| HJR 27 | RELOCATE COASTAL VILLAGES REGION FUND | REPRESENTATIVE SEATON | | LEGIS RESOLVE 15 | 07/19/2011 |
| HJR 29 | BLM LEGACY OIL WELL CLEAN UP/AWARENESS | REPRESENTATIVE MILLETT | | LEGIS RESOLVE 30 | 09/12/2012 |
| HJR 32 | REMOVE WOOD BISON FROM ENDANGERED LIST | REPRESENTATIVE DICK | | (S) SUP CAL 4/15 | 04/15/2012 |
| HJR 34 | COAST GUARD ICEBREAKERS & ARCTIC BASE | REPRESENTATIVE HERRON | | LEGIS RESOLVE 32 | 08/08/2012 |
| HJR 40 | RS 2477 RIGHTS-OF-WAY | REPRESENTATIVE KELLER | | (S) RES | 04/12/2012 |
| SB 13 | LOWER PARK FEE FOR DISABLED VETERANS | SENATOR FRENCH | | (H) FIN | 04/12/2012 |
| SB 15 | SEX OFFENDER/UNDERAGE ALCOHOL OFFENSE | SENATOR MEYER | | CHAPTER 21 SLA 11 | 06/23/2011 |
| SB 21 | EXTEND SENIOR BENEFITS PAYMENT PROGRAM | SENATORS WIELECHOWSKI, KOOKESH, MEYER, PASKVAN, MCGUIRE | | (S) HSS | 01/19/2011 |
| SB 23 | TAX/CREDIT:FILM/OIL & GAS/GAS STOR./CORP. | SENATOR ELLIS | | CHAPTER 51 SLA 12 | 05/30/2012 |
| SB 25 | AIDEA: SUSTAINABLE ENERGY/ INTEREST RATE | SENATOR MCGUIRE | | CHAPTER 60 SLA 12 | 06/12/2012 |
| SB 30 | RETURN OF SEIZED PROPERTY | SENATOR DYSON | | CHAPTER 3 SLA 12 | 03/21/2012 |
| SB 33 | DISPOSITION OF SERVICE MEMBERS' REMAINS | SENATORS WIELECHOWSKI, PASKVAN, COGHILL | | CHAPTER 1 SLA 11 | 03/11/2011 |
| SB 38 | POLICE & FIREFIGHTER DEATH BENEFITS | SENATOR MEYER | | (S) FIN | 02/16/2011 |
| SB 50 | LEGISLATIVE AUDIT DIVISION POWERS | SENATOR DYSON | | (S) STA | 01/19/2011 |
| SB 62 | CIVIL LEGAL SERVICES FUND | SENATOR MCGUIRE | | (S) FIN | 02/11/2011 |
| SB 74 | AUTISM: INS. COVERAGE, TASK FORCE | SENATOR ELLIS | | CHAPTER 63 SLA 12 | 06/27/2012 |
| SB 85 | TAX CREDIT FOR NEW OIL & GAS DEVELOPMENT | SENATOR WAGONER | | (S) RES | 02/07/2011 |
| SB 87 | GRANTS FOR SENIORS' MEDICAL CARE | SENATOR FRENCH | | (H) L&C | 04/08/2011 |
| SB 94 | SECOND VERSE OF ALASKA'S STATE SONG | SENATOR DAVIS | | (H) JUD | 04/15/2011 |
| SB 98 | BIOMETRIC INFORMATION FOR ID | SENATOR WIELECHOWSKI | | (H) JUD | 04/12/2012 |
| SB 100 | PERS TERMINATION COSTS | SENATOR PASKVAN | | (H) L&C | 04/11/2012 |
| SB 101 | ENTITY TRANSACTIONS ACT | SENATOR PASKVAN | | (H) L&C | 04/11/2011 |
| SB 104 | MANUFACT'D HOMES AS REAL PROP.;MUNI TAXES | SENATOR FRENCH | | CHAPTER 64 SLA 12 | 06/12/2012 |
| SB 107 | APPROP: UNIV. ENGINEERING BUILDINGS | SENATOR ELLIS | | (S) FIN | 04/08/2011 |
| SB 108 | SPC. STEPHEN "MAX" CAVANAUGH OVERPASS | SENATOR MCGUIRE | | CHAPTER 19 SLA 11 | 06/08/2011 |
| SB 117 | PFD ALLOWABLE ABSENCE: MILITARY | SENATOR WIELECHOWSKI | | (S) STA | 03/30/2011 |
| SB 119 | SCHOOL SPORTS/ INTERSCHOLASTIC ACTIVITIES | SENATOR MEYER | | CHAPTER 49 SLA 12 | 05/29/2012 |
| SB 121 | TEACHERS & PUB EMPLOYEE RETIREMENT PLANS | SENATOR EGAN | | (H) L&C | 04/15/2012 |
| SB 123 | ALASKA MINING DAY | SENATOR GIESSEL | | (S) RLS | 03/16/2012 |
| SB 124 | O & G PRODUCTION TAX CREDIT FOR ROADS | SENATOR WAGONER | | (S) RES | 04/11/2011 |
| SB 127 | FETAL ALCOHOL DISORDERS AWARENESS DAY | SENATOR MEYER | | CHAPTER 7 SLA 12 | 04/24/2012 |
| SB 130 | ALASKA NATIVE LANGUAGE COUNCIL | SENATOR OLSON | | CHAPTER 48 SLA 12 | 05/28/2012 |
| SB 135 | CRIME VICTIMS/ADVOCATE/DA/PD/CONTINUANCES | SENATOR FRENCH | | CHAPTER 72 SLA 12 | 06/19/2012 |
| SB 136 | VETERANS DRIVERS LICENSE, TAX CREDIT | SENATOR WIELECHOWSKI | | CHAPTER 68 SLA 12 | 06/18/2012 |
| SB 137 | SUICIDE AWARENESS & PREVENTION TRAINING | SENATOR DAVIS | | CHAPTER 34 SLA 12 | 05/23/2012 |
| SB 150 | MILITARY TRAINING CREDIT | SENATOR WIELECHOWSKI | | (H) MLV | 02/06/2012 |
| SB 151 | FETAL ALCOHOL SPEC. DISORDER AS MITIGATOR | SENATOR MEYER | | CHAPTER 54 SLA 12 | 06/21/2012 |
| SB 153 | NATURAL GAS STORAGE TAX CREDIT/REGULATION | SENATOR THOMAS | | (S) FIN | 03/14/2012 |
| SB 175 | PRACTICE OF NATUROPATHY | SENATOR MCGUIRE | | (H) L&C | 04/13/2012 |
| SB 179 | MISSING VULNERABLE ADULT RESPONSE PLAN | SENATOR DAVIS | | (H) RLS | 04/14/2012 |
| SB 183 | PROPERTY TAX EXEMPTION/MILITARY WIDOW(ER) | SENATOR DAVIS | | (S) CRA | 01/30/2012 |
| SB 199 | VOCATIONAL EDUCATION FUNDING FACTOR | SENATOR MEYER | | (H) FIN | 03/26/2012 |
| SB 203 | ENERGY ASSISTANCE PROGRAM & VOUCHERS | SENATOR THOMAS | | (H) L&C | 04/10/2012 |
| SB 210 | CRIMES/SENTENCING/PAROLE/VICTIMS | SENATOR MCGUIRE | | CHAPTER 70 SLA 12 | 06/19/2012 |
| SB 211 | PERS CREDIT FOR MILITARY SERVICE | SENATOR MCGUIRE | | (S) FIN | 03/30/2012 |
| SCR 7 | FETAL ALCOHOL SPECTRUM DISORDERS DAY | SENATOR MEYER | | LEGIS RESOLVE 11 | 07/19/2011 |
| SCR 11 | WALTER HICKEL DAY OF THE ARCTIC | SENATOR FRENCH | | LEGIS RESOLVE 42 | 08/08/2012 |
| SCR 18 | RAOUL WALLENBERG REMEMBRANCE DAY | SENATOR DYSON | | LEGIS RESOLVE 33 | 08/08/2012 |
| SCR 20 | DECORATION OF HONOR | SENATOR WIELECHOWSKI | | LEGIS RESOLVE 35 | 08/08/2012 |
| SJR 2 | LIMIT FEDERAL INTERVENTION IN STATE | SENATOR DYSON | | LEGIS RESOLVE 13 | 07/19/2011 |
| SJR 7 | URGING US TO RATIFY LAW OF THE SEA TREATY | SENATOR WAGONER | | (S) RES | 03/01/2011 |
| SJR 14 | MILITARY PERSONNEL CUTS & BASE CLOSURES | SENATOR WIELECHOWSKI | | (H) RLS | 03/28/2012 |
| SJR 15 | COAST GUARD ICEBREAKERS & ARCTIC BASE | SENATOR OLSON | | (S) RLS | 02/29/2012 |
| SJR 16 | MILITARY PENSIONS | SENATOR WIELECHOWSKI | | (H) RLS | 04/06/2012 |
| SJR 17 | ARCTIC COUNCIL TASK FORCE | SENATOR MCGUIRE | | LEGIS RESOLVE 29 | 03/19/2012 |
| SR 2 | URGING FUNDING FOR ESSENTIAL AIR SERVICE | SENATOR KOOKESH | | SENATE RESOLVE 2 | 02/23/2011 |